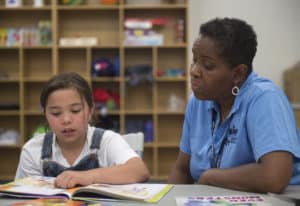 A new partnership between the Penn Memory Center (PMC) and Children's Hospital of Philadelphia (CHOP) is bridging the the gap between the city's older adults and young children through reading. It's a collaboration that organizers believe can benefit both parties.
"When older adults retire, there's an increase in isolation and also a lack of sense of purpose," said Megan Fucci, PMC social worker and the program's coordinator. "This program was designed to give opportunities to older adults."
Meanwhile, spending time in the waiting room of a doctor's office can be a daunting task for a small child. That is, unless they have an enjoyable distraction.
Volunteers in the new Building Bridges Intergenerational Program read to children in the waiting room of CHOP Primary Care in South Philadelphia. Other volunteers promote literacy elsewhere in the building, at the Philadelphia Free Library and the DiSilvestro Recreation Center.
"I can't imagine a child not reading," said PMC volunteer Eleanor Lundy-Wade, an avid reader who recalls spending summers as a child getting lost in stories picked up from the local bookmobile.
Lundy-Wade reads and colors with children while they wait to see their CHOP doctors. She wants to get kids excited about reading because, she said, it's a powerful way to open doors and learn about the world.
"Games are fun," said Lundy-Wade, "but a book is so much more powerful."
For Leslie R. Wolff, volunteering for CHOP is payback. As a child, he fell into a coma after being hit by a car, but he went on to make a full recovery at CHOP. Wolff sees Building Bridges as "an opportunity to pay back the people who saved my life."
Wolff connects with children in the waiting room using his colorful "puppet buddies," Bluey and Rufus, whose personalities are as unique as their appearances.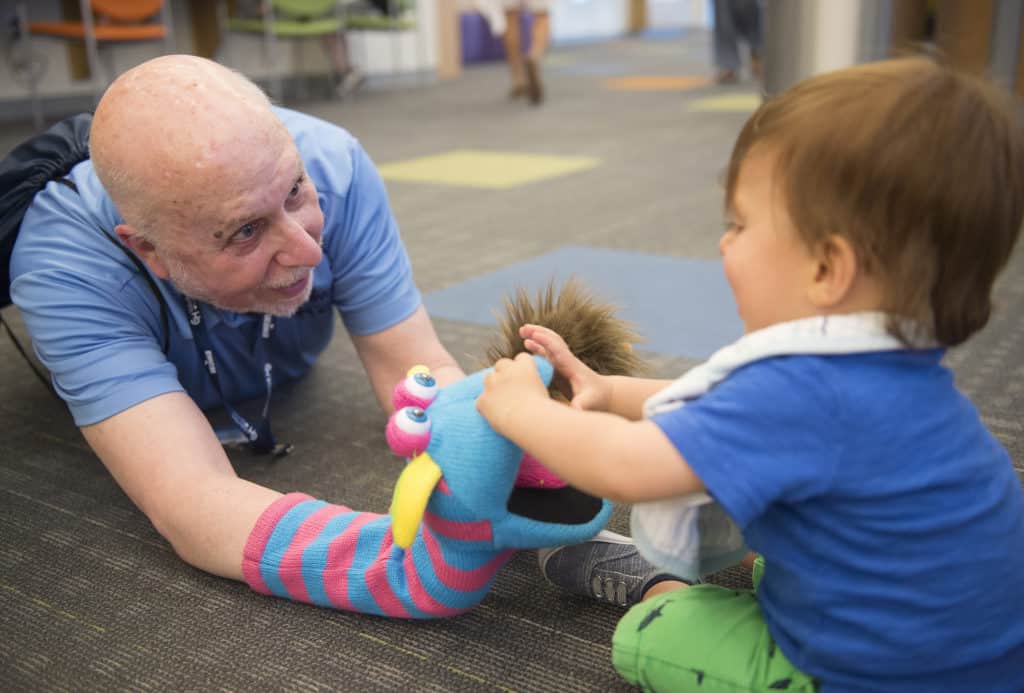 "The goal of the program is to really provide meaningful experiences that can help bridge the gap between the generations," said Maureen McTamney, volunteer services technology analyst for CHOP. "Having them able to come together in a way that can benefit both…I think it can really benefit CHOP but then also society."
Interested in learning more about this volunteer opportunity? Contact Alison Lynn, LSW, assistant director of care programs at the Penn Memory Center, at 215-360-0257 or alison.lynn@uphs.upenn.edu.
— by Chloe Elmer