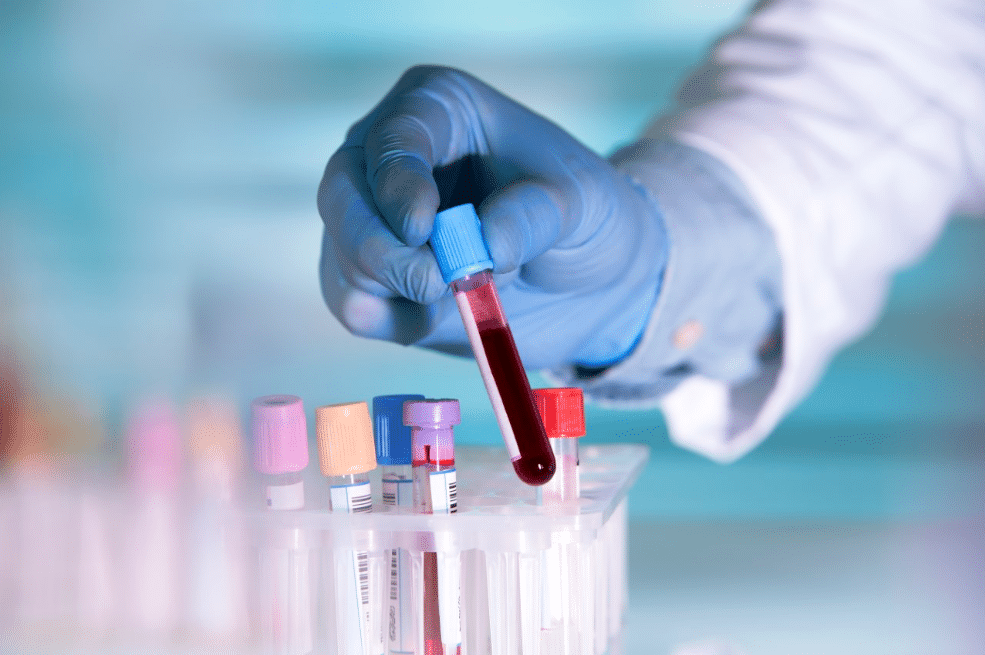 by Varshini Chellapilla 
A direct-to-consumer blood test for a key Alzheimer's biomarker may be "inevitable," but Penn Program on Precision Medicine for the Brain (P3MB) researchers warn that receiving results from such a test comes with potential challenges.  
Penn Memory Center (PMC) Co-Director Jason Karlawish, MD, and P3MB researcher Emily Largent, JD, PhD, RN, with co-author Anna Wexler, PhD, weighed the risks and benefits of these blood tests in a recent article for JAMA Neurology, titled "The Future is p-Tau – Anticipating Direct-to-Consumer Alzheimer's Disease Blood Tests."  
Alzheimer's disease has three main biomarkers, or medical indicators in the body that characterize the disease: the build-up of amyloid proteins in the brain disrupting the functions of neurons, the loss of function and structure of neurons, and tau-protein tangles formed inside neurons.  
"While amyloid has historically attracted a lot of attention, in the last year, a lot of interest started to grow around blood-based biomarkers, particularly the marker of tau," Dr. Largent said. 
Tau proteins are naturally occurring in the brain and are part of structures called microtubules, which help transport nutrients from one end of a neuron to the other. An abnormal accumulation of tau proteins inside the neurons causes tangles that disrupt the transportation process and hinder communication between neurons. 
Many recent studies by researchers highlight that observing the levels of tau protein in an individual's bloodstream can help detect tau and amyloid build-up.  
"Our group, P3MB, has spent a lot of time thinking about what the implications of blood tests for tau might be for research practice and clinical practice as well as in individuals' lives," Dr. Largent said. "We are trying to look into the future, to think about what's around the corner. Right now, these tests are not widely available. So, we're contemplating what might happen if a test was made available directly to consumers." 
Drs. Largent and Karlawish predict that these tests have the potential to be similar to blood tests now available to consumers for home HIV or pregnancy testing. The tests allow people to get important, often life-changing, information at a time and location convenient to them. Direct-to-consumer testing can also improve testing and diagnostic rates. 
Dr. Largent's interest in the topic of direct-to-consumer blood tests for tau arose from the debates surrounding direct-to-consumer apolipoprotein E (APOE) testing, a gene most commonly associated with Alzheimer's disease. 23andMe, a company that provides direct-to-consumer genetic tests, offers a test for APOE. Some researchers worry about direct-to-consumer tests that reveal important health information to people without equipping them with the knowledge and support provided by a medical professional.  
This type of testing also comes with challenges, including concerns about privacy and confidentiality, the unexpected burden on the healthcare system, discrimination based on the test results, and the stigma that accompanies Alzheimer's disease diagnoses.  
"I think a direct-to-consumer blood test for tau is inevitable," Dr. Largent said. "But I think our work at PMC — advocating for systemic change, trying to identify legal protections for people who find out that they have Alzheimer's disease biomarkers, and really continuing to address the stigma of Alzheimer's disease is important to deliver better care to patients and their families, so that they are not getting this diagnosis or this information in a system that's really not prepared or equipped to care for them with the level of attention and protection that they need."