By Varshini Chellapilla
Today, according to the Alzheimer's Association, more than 5 million Americans live with Alzheimer's disease. Approximately 15 million Americans are providing care for a loved one with Alzheimer's disease.  
How is your future and the future of your loved ones affected by Alzheimer's disease? What can we do to help those living with dementia and the caregivers providing assistance for them? 
On Oct. 28, in collaboration with Alpha Kappa Alpha Sorority's Omega Omega chapter, the Penn Memory Center hosted a panel titled "Memory and the Aging Brain." Sharnita Midgett, a clinical research and outreach coordinator at PMC, and Felicia Greenfield, executive director of PMC, served as panelists, covering a wide range of topics – from the maintenance of healthy brain aging to participation in research programs.  
"For me, it is important to share all I've learned and continue to learn about Alzheimer's disease with others who are caring for a loved one," Midgett said.  
Midgett talked about the important difference between Alzheimer's disease, dementia and mild cognitive impairment (MCI).  
"A very important takeaway that I'd like you to remember from this is that Alzheimer's disease is the disease and dementia is the symptom," Midgett said. MCI, on the other hand, is a stage between cognitive aging and a more serious decline of dementia. Not all people with MCI will develop dementia, said Midgett. It is dependent on the cause of the problems in memory and thinking.  
"The MCI might be caused by a sleep disturbance, severe depression, thyroid deficiency, or anxiety that if it's treated can improve," Greenfield said. "There are treatable medical things that can make that mild cognitive impairment, reverse and go back to normal aging. But, if a neurodegenerative process in the brain, such as Alzheimer's disease is leading cause of the MCI, 10 percent of those people will go on to develop dementia in the following year."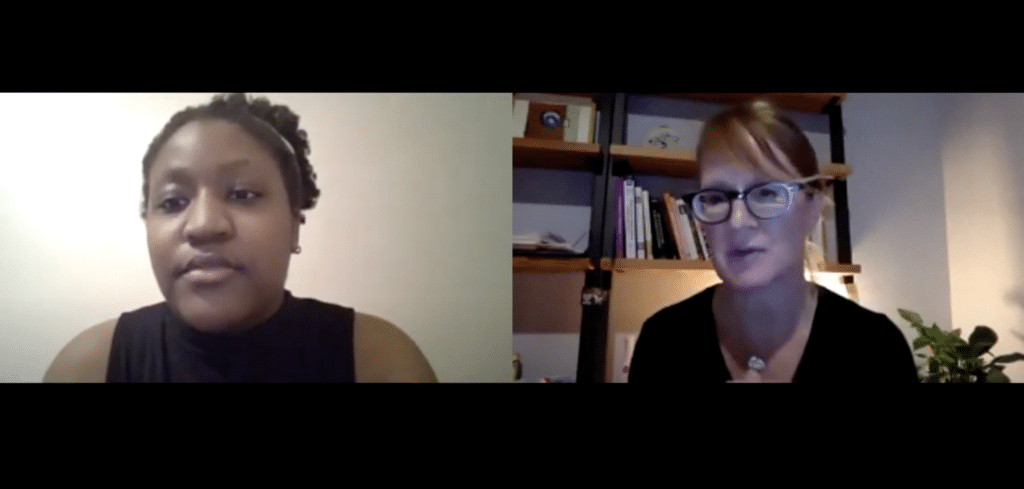 Healthy Brain Aging 
"As our brain changes as we age, some people find it difficult to figure out the difference between healthy brainy aging and dementia," Midgett said. "Age-related changes include missing a monthly payment, forgetting which day it is and remembering it later, losing things from time to time. Some signs of dementia include an ability to manage a budget, losing track of the date or the season, difficulty having a conversation and misplacing things and being unable to retrieve steps to find them."  
Greenfield addressed the risk factors that could make a person more likely to develop dementia. While factors like age and gender play a big role, other risk factors include head trauma and unhealthy lifestyles like excessive smoking or drinking.  
Additionally, older Latinos are about 1-1/2 times as likely as older Caucasians to have Alzheimer's disease and other dementias, while older African-Americans are about twice as likely to have the disease as older Caucasians. While the reason for these differences is not well understood yet, researchers believe that higher rates of vascular disease in these groups may also put them at greater risk for developing Alzheimer's disease. 
"We see that family history or genes play a role. It is a risk factor," Greenfield said. "But it doesn't mean that it's absolutely going to develop into Alzheimer's disease. There have been lots of studies done that look at family history over time and there are people who have the genes for Alzheimer's disease but never go on to develop dementia. Not every person who has the risk factors goes on to develop dementia."  
Midgett and Greenfield introduced a wide variety of methods and practices that can contribute to healthy brain aging.  
"One thing we would like for you to remember is the saying: If it's good for the heart, it's good for your brain," Midgett said.  
Partaking in a Mediterranean diet — rich with dairy products, fish and poultry, olive oil, and fruits and vegetables — has been proven to help with healthy brain aging. This diet is similar to the dietary recommendations of the American Heart Association. Additionally, cardiovascular exercises and social connectedness keep the body engaged and healthy as it ages. 
"Specifically, when it comes to cognition and brain aging, we focus on five lifestyle changes: physical exercise, nutrition, cognitive stimulation, social engagement, and mood management," Greenfield said. She recommended volunteering, cognitive stimulation through reading or puzzles, and taking part in online classes as well.  
The Penn Memory Center offers physical activity programs like Shake It Up, an 8-week virtual exercise program, and Dance For Health, a weekly dance session held virtually and in-person. Other programs include Timeslips, a creative storytelling program for those with cognitive impairments, and Weekly Smiles, a virtual program where a college student and an older participant will be set up in a mentor-mentee system. More information about the many available programs can be found on the center's website here.    
Greenfield and Midgett both encouraged the audience to participate in the ongoing research at the Penn Memory Center. 
"Why should I participate?" Midgett addressed the issue. "You will be provided with a comprehensive memory assessment that can help you understand how your brain health may be changing over time. Your participation directly advances research, you're helping future generations in the fight against Alzheimer's disease. We work to connect you with additional resources, such as recommending appropriate support groups. Participation helps your community. By participating in research, you help us learn more about how different life experiences, backgrounds and other factors impact brain health." 
The panelists also answered a wide range of questions from the audience including addressing the possibility of cognitive impairment issues with an older family member, the difference between MRI scans and PET scans, and the process of participating in research at the Penn Memory Center.