By Janissa Delzo
David Dyke has a hard time remembering details and dates.
"But he knows when this is," Sue Dyke says of her husband, a patient at the Penn Memory Center. "It's written down in his calendar, he knows it's time to come to the Memory Café."
The Dykes, married about 50 years, have attended the Memory Café since its inception in December 2015. David typically pulls away from unfamiliar situations, because he's hesitant about meeting new people, but "not here," she says. "Everybody is in the same boat."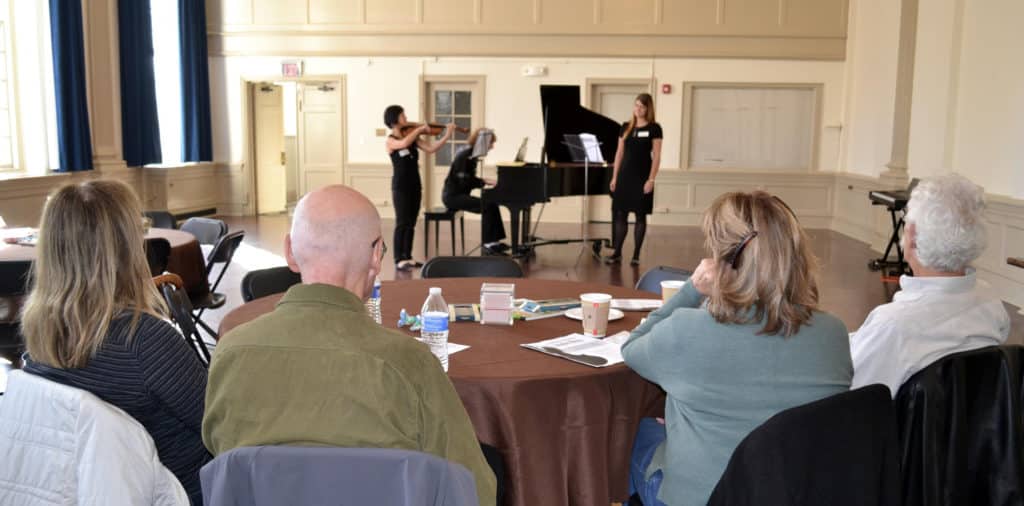 We're sitting at a table on the second floor of Christ Church Neighborhood House in Old City and just finished having a short dance lesson from R. Colby Damon, a professional dancer and choreographer, who tailored his class specifically to the unique challenges of those living with Alzheimer's disease. He's one of the many performers who have come to entertain guests at the 90-minute cafés, exclusively for people with memory problems and their partners/families.
But performers weren't always a staple of the monthly gatherings. Over the past three years, the social event has come a long way. It once involved just a few guests sitting around tables, chatting between sips of coffee donated from Gia Pronto Kitchen, a café on the ground floor of the Perelman Center for Advanced Medicine.
"It was very bare bones," says PMC Associate Director of Social Work Alison Lynn, MSW, LCSW. "It's evolved now into this thing where we have that time for socialization, then we have a performer. But it was not like that at the beginning."
The list of performers and other guests that have come to entertain café-goers is impressive. The Philadelphia Zoo on Wheels brought Bandit the African hedgehog and Cooper the ring-necked dove, among other friendly creatures. Photographer Johanna Austin held a portrait session of caregivers and their loved ones, gifting guests the images. The Mütter Museum presented an exhibit featuring crude medical tools used during the Civil War.
"The ones that I love best are the unusual ones," says Dyke. "There was a group of women from the Main Line who sang Bulgarian folk songs phonetically because nobody spoke Bulgarian. They were just wonderful."
As the entertainment has evolved, so has the crowd. On average, about 20 participants attend each month, but there have been many events where that number was closer to 30.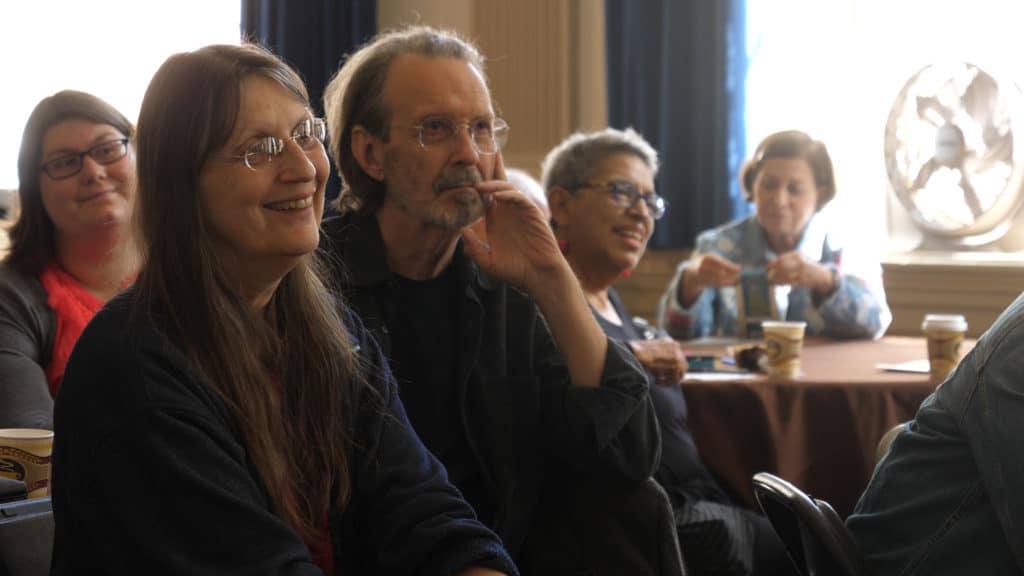 Aside from the entertainment, the best part of the sessions is the opportunity it gives Sue and David to socialize with people who are going through similar situations, she says. Lynn agrees and believes it's especially rewarding seeing patients engaged in presentations, activities and performance, who she knows that their caregivers have a tough time keeping them busy.
"It brings relief to both the person suffering from memory loss but also from their caregiver watching them enjoy something and being able to bond over that experience," Lynn says.
These cafés were first created in the Netherlands in 1997 by Dr. Bere Miesen, a Dutch psychiatrist, and introduced to the United States about a decade later. The concept was introduced to PMC by Genevieve Gellert, LCSW, then a social work intern, and green-lit by Executive Director Felicia Greenfield, MSW, LCSW, in July 2015.
"They haven't really been that prominent or pervasive throughout the country," Gellert said in 2015. "I thought that we could use one in Philadelphia county to increase services for those with dementia."
Although the Memory Café has greatly evolved, Lynn — who was Gellert's co-intern and has been leading the sessions since summer 2016 — is hopeful there will be even more growth in the months and years to come. Specifically, she hopes to increase the number of attendees and continue to engage with the Penn community by bringing in student groups to encourage intergenerational programming.
"I think that it's a wonderful thing for people to be able to participate in," says Dyke. "If you were sitting here looking at people, you see how much they enjoy being here."