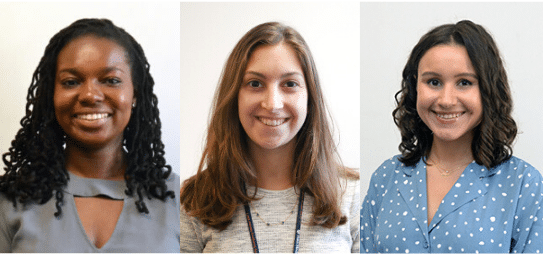 By Danny Yarnall 
Three Penn Memory Center (PMC) research coordinators — Allie Weiss, Sidnei McCrea, and Olivia Sykes — are departing the center this summer as they prepare to begin their medical school careers.
Weiss joined PMC in 2017 and has been instrumental to the Phase III Biogen study as a research coordinator and conducting cognitive assessments for our Aging Brain Cohort (ABC) Study. She will attend Sidney Kimmel Medical College at Jefferson University.
"Her intelligence, dedication, and kindness were apparent in all the work she did during her time at the Penn Memory Center," said PMC Co-Director David Wolk, MD. "Our staff, faculty, and patients will miss her, but we are very excited for the many contributions she will make as a physician."
McCrea joined the Penn Memory Center in 2019 as a research coordinator for the ABC study. PMC leadership was looking for someone long-term for the position, but McCrea was worth the exception, said PMC Executive Director Felicia Greenfield, MSW, LCSW.
"We were so impressed by Sidnei that we offered her the position anyway," knowing that she would leave less than a year later, Greenfield said. "In the past year, Sidnei has been a tremendous asset to our team."
McCrea worked both with active research participants and assisted with outreach and recruitment efforts, with a particular focus on diversity within the study. 
"While we're sad to see her go, we are so proud of Sidnei and excited in anticipation of the day she becomes a doctor," Greenfield said. "On behalf of the PMC team, we offer Sidnei heartfelt congratulations and a big thanks for all she's done for the ABC research study this past year."
McCrea will attend the Lewis Katz School of Medicine at Temple University.
Sykes also joined PMC relatively recently, in July 2019. She made a significant impact on the research of the The Penn Program on Precision Medicine for the Brain (P3MB) team.  
Whether it was facing the camera for the PALS Study, cleaning up citations, or interviewing research participants, Sykes demonstrated a willingness to help out with tasks large or small.
"Her patience and excellent rapport with research subjects are masterful acts of communication," said PMC Co-Director Jason Karlawish, MD. "In sum, she shall be an outstanding physician. We wish her all the best and can't wait to see all the great things she accomplishes."
Sykes will attend Tufts University School of Medicine.