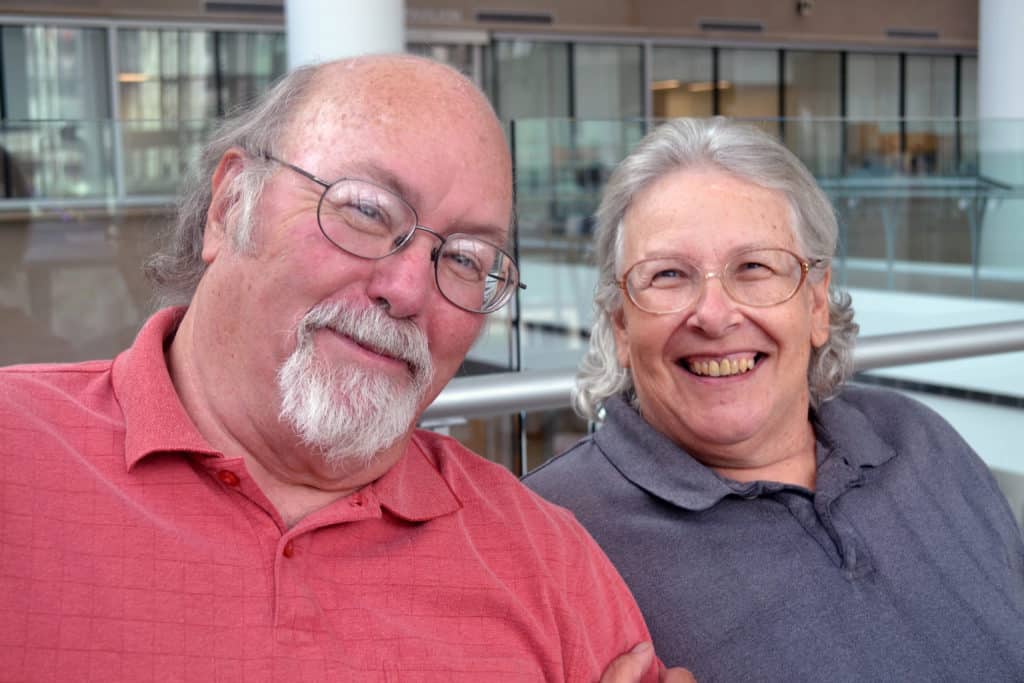 By Danny Yarnall
Jacqueline "Jackie" Witzman, a public supporter of the Penn Memory Center and its research, died on April 22 of Alzheimer's disease. She was 69 years old.
Jackie Witzman, together with her husband Jack, received care at the Penn Memory Center. Later, they volunteered to participate in clinical trials, making the journey via train from their home in Delaware. They soon asked for opportunities to contribute to research and care and so became public spokespeople about their experiences as patient and research participant and caregiver and study partner. 
In the 2017 issue of InSight magazine, the cover story "The Importance of Study Partners" featured their photograph and story.
Jackie and Jack were examples of everything invoked in the process of being study partners, a job that doesn't begin or end in clinical trials. Whether it's through handling medication, informing doctors of changes in cognition, or acting as an advocate for their loved one, people like Jack and Jackie make Alzheimer's research possible.
The Witzmans based their efforts on hope. While there are few solid answers for current participants and their partners, altruism was one of the motivating factors for them to contribute to Alzheimer's research.
"I believe in the cause that in five years or in 50 years, what my wife and I are doing will help our kids and theirs to avoid this," Jack said.
Jack took on his role as a study partner seriously, never wavered in his optimism and joy that shone through when the Witzmans came in for a study visit.
"One day my wife and I will walk out of the darkness and into the light. I know we will," Jack said.
The Witzmans would lend their voice and their experiences on behalf of study partners everywhere. Their story generated arguments for using study partners in preclinical trials, where a person like Jack Witzman could provide vital information to researchers even when changes aren't as apparent on the surface. 
Jackie herself took on the would later serve as a spokesperson for the EasterSeals adult day program that she participated in. As spokesperson she and Jack brought attention to the vital aid adult daycares bring to caregivers and their loved ones. The energy she brought to the role was infectious. When she met the executive director of Easterseals, her initial reaction was to teach him a few line dance steps. 
"Mr. and Mrs. Witzman were inspirational," said Jason Karlawish, co-director of the Penn Memory Center and Mrs. Witzman's physician. "In the face of a devastating diagnosis, they made a plan, took action and told their story. Their willingness to share their words and images and lives have helped to raise awareness, cast away crushing stigmas and inspire us that we can live well with Alzheimer's disease."