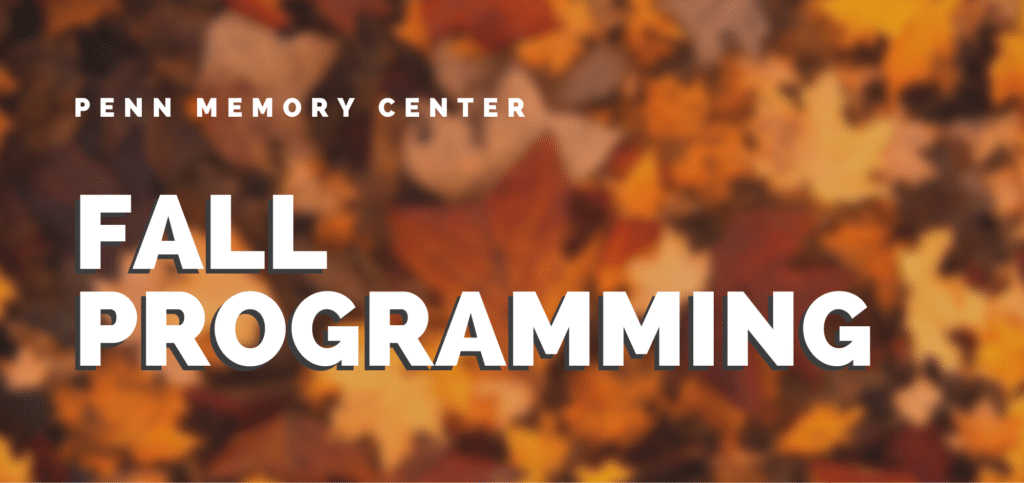 Empowering Caregivers Workshop Series
Sept. 2, Oct. 7, Nov. 18, Dec. 9, 12:00 – 2:00 p.m.
Experts will present on a variety of intensive caregiving topics and take audience questions.
Learn more about our Empowering Caregivers Workshop Series
Creative Expressions through Music
Tuesdays, 11:00 a.m. – 12:30 p.m., starting Oct. 18, in-person
Join in on group singing, drum circles, and the creation of new musical works. This program is led by musicians from the Curtis Institute of Music.
RSVP for Creative Expressions Through Music
Mindfulness and Meditation
Thursdays, 1:00 – 2:00 p.m., starting Oct. 13, virtual
Explore short meditation and mindfulness exercises that help reduce stress and ground you in the present moment.
RSVP for Mindfulness and Meditation
Creating Meaningful Connections with Persons Living with Mild Cognitive Impairment
Sept. 29, Oct. 13, Oct. 27, Nov. 10, 10:30 – 11:30 a.m.
In this 4-session, virtual program, caregivers will learn strategies to bring out their loved one's abilities and communication skills.
RSVP for Creating Meaningful Connections
Shake It Up!
Mondays, 12:00 – 1:00 p.m., virtual
Shake It Up! is an exercise program for all levels of mobility and experience.
Cognitive Comedy
Tuesdays, 1:30 – 3:00 p.m., virtual
Cognitive Comedy is a improv comedy workshop for people with cognitive impairment and their loved ones.
Grief Yoga for Caregivers
Last Thursday of every month, 11:00 a.m. – 12:00 p.m.
Licensed clinical social worker and yoga instructor Beth Segaloff will lead a yoga session to help process caregiving experiences and connect with others.
Virtual Forum for Caregivers with a Loved One at Home
Sept. 20, Oct. 18, Nov. 15, Dec. 13, 12:00 – 1:00 p.m.
These forums are a place for caregivers with a loved one at home to connect and gather. Our goal is to provide you with a virtual place to meet, share stories, gain new perspectives, and share coping strategies with others going through a similar experience. These forums are facilitated by PMC social worker Leah Fein.
Learn more about PMC Caregiver Forums
Caregiver Classes
PMC is offering three classes for caregivers this fall. We have a pre-recorded class that can be taken at one's own pace. We also have live, virtual classes for adult children caregivers and spousal caregivers.
Learn more about PMC Caregiver Classes
Information about the fall schedule for our Mindfulness and Meditation class and Creative Expressions Through Music program will be available soon.