By Meghan McCarthy
PMC is saying goodbye to clinical fellow Estevana Isaac, MD, and is welcoming Catherine Norise, MD, into the clinical fellowship program.  
As a clinical fellow, Dr. Isaac trained for her subspecialization in cognitive and behavioral neurology. This has included clinical work, research, and professional development.  
"My favorite experience has been working with families and patients in clinic. Having one on one time, hearing their stories, and being part of their journeys was incredibly meaningful," said Dr. Isaac.  
During her time, Dr. Isaac took full advantage of interdisciplinary collaboration.  
Specifically, her research focused on disparities in health outcomes for patients with diverse cultural backgrounds.  
Now, at the end of her fellowship, she will continue working with patients who have Alzheimer's disease and related dementias (ADRDs) at Mount Sinai Hospital in New York, NY.  
"Within dementia care, I am interested in healthcare models that will help vulnerable patient populations access healthcare," said Dr. Isaac. 
Dr. Isaac said she is grateful for her time at PMC and, as a New York native, is excited to live by her family again. 
Dr. Norise received her master's in translational research and medical doctorate from Penn. As a medical student, she participated in the Penn Minority Scholar in Aging Research — a training program led by PMC Co-director Jason Karlawish, MD, and PMC clinician Roy Hamilton, MD, MS.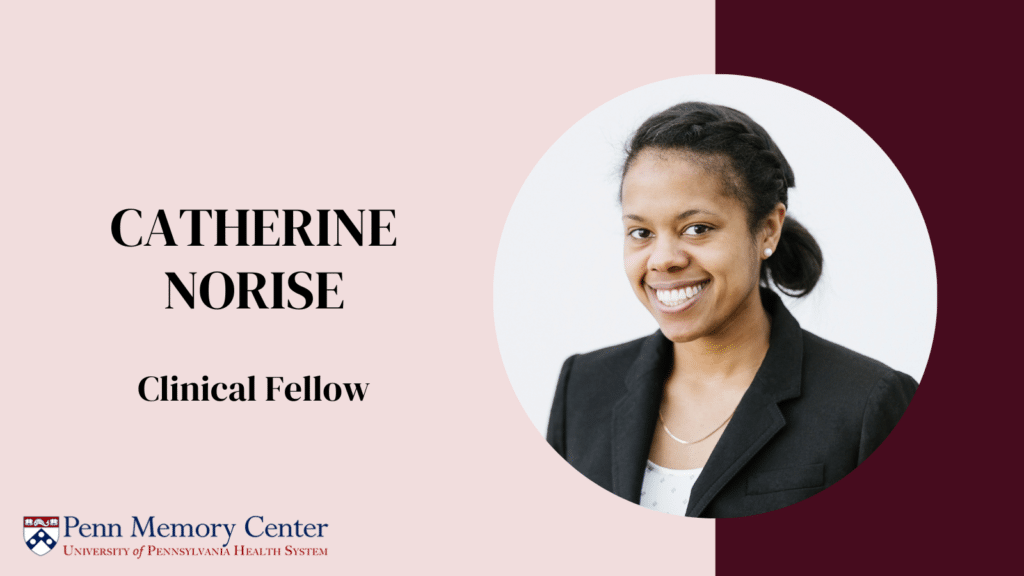 Throughout her medical school career, Dr. Norise worked in the Laboratory for Cognition and Neural Stimulation (LCNS). Her various research projects focused on language recovery and neuromodulation. 
Neuromodulation is a technique which targets certain areas of the brain in order to change their activity.  
Dr. Norise completed her residency at the University of Massachusetts, acting as chief resident. Now, she is excited to return to Penn as our next clinical fellow.  
"I am so excited to work with the PMC team and many talented individuals here. It is incredible how much PMC has expanded over the years, and I am looking forward to starting with the group," said Dr. Norise.  
As a fellow, Dr. Norise's research will focus on the therapeutic potential of neuromodulation in language disorders.  
"It is amazing that there are so many studies running consecutively at PMC. In the world of cognitive neurology and dementia, this robust form of research is greatly needed," said Dr. Norise.  
Beyond this fellowship, Dr. Norise envisions a career which combines clinical work with patients who have cognitive disorders and research focused on the rehabilitative possibilities within neuromodulation.