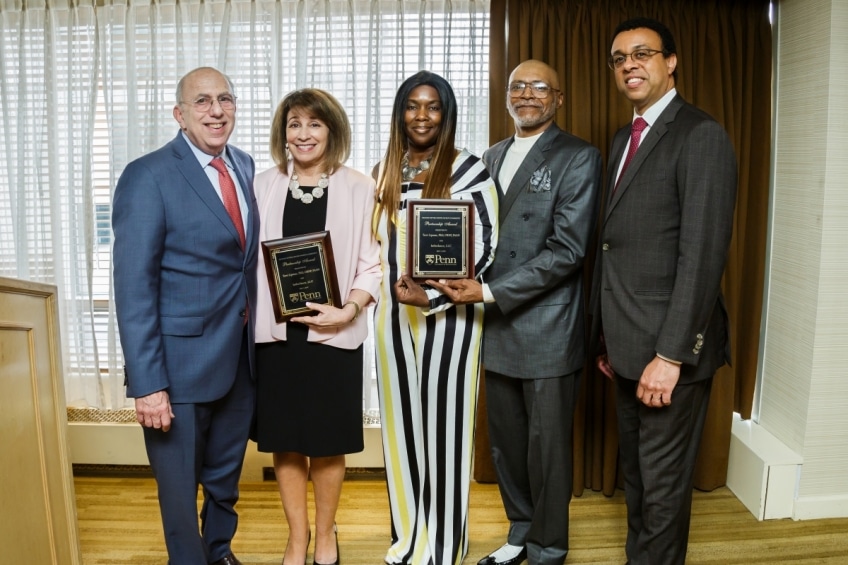 By Leah Fein and the Netter Center for Community Partnerships
The founding partners of the intergenerational Dance for Health program were honored last week with the 2019 Provost-Netter Center Faculty-Community Partnership Award. This award recognizes and supports outstanding, sustained, and productive university/community partnerships.
Terri H. Lipman, PhD, CRNP, FAAN, is the Assistant Dean for Community Engagement, the Miriam Stirl Endowed Term Professor of Nutrition, and Professor of Nursing of Children at the School of Nursing, and maintains a clinical practice as a pediatric nurse practitioner in the Division of Diabetes and Endocrinology at the Children's Hospital of Philadelphia (CHOP).
Dr. Lipman and Inthedance, LLC co-founders David and Serena Williams Early began Dance for Health program in 2012 with a goal of increasing access to physical activity and encouraging balance and body movement through dance. Since its inception, Dance for Health has engaged 700 participants and has demonstrated a positive impact on cardiovascular health, anxiety, memory, and social support.
"With our community partners, Inthedance, LLC, Dance for Health has provided hundreds of nursing students with the opportunity to address social determinants of health and engage with community members for mutually beneficial outcomes," said Lipman.
For the past few years, the Penn Memory Center has coordinated its own Dance for Health-affiliated program, Dance for Health: Active Mind, Active Body. The program is held once per week for a few months at a time.
Research has shown that adhering to a regular exercise schedule helps maintain brain health and reduces the risk of developing cognitive impairment due to neurodegenerative diseases like Alzheimer's disease and vascular dementia.
The dance sessions are open to older adults with no memory loss, mild cognitive impairment, or early-stage Alzheimer's disease. Instructors take into account the participants' ages and possible cognitive impairments to ensure inclusivity when structuring the sessions.
The annual Provost-Netter Center Faculty-Community Partnership Award recognizes sustained and productive university/community partnerships. Junior and senior faculty along with senior lecturers and associated faculty from any of Penn's 12 schools are eligible for nomination, together with their community partners. The $10,000 prize is split between the faculty member and the community partner.
The Provost-Netter Center Faculty-Community Award Review Committee was chaired by Carol Ann Muller, Professor of Music and Director of the Minor in Jazz and Popular Music Studies and also included Dennis DeTurck, Robert A. Fox Leadership Professor and Professor and Undergraduate Chair of Mathematics; Vernoca Michael, Director of the Paul Robeson House and Museum; and John Puckett, Professor in the Graduate School of Education.