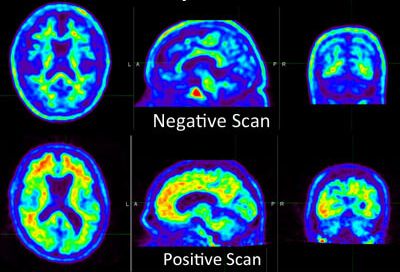 By Sharnita Midgett, MPH
Studies to discover new treatments for Alzheimer's disease have been revolutionized.
A person who has no cognitive problems — who's busy working or traveling or caring for grandchildren — can undergo a PET scan to determine whether she has "elevated amyloid," a high level of a protein associated with a heightened lifetime risk of developing dementia caused by Alzheimer's disease.
If it were you, how would you react?
Researchers participating in the Anti-Amyloid Treatment in Asymptomatic Alzheimer's Disease (A4) Study are learning the answers to this important question. In the August 2020 issue of JAMA Neurology, "Short-term Psychological Outcomes of Disclosing Amyloid Imaging Results to Research Participants Who Do Not Have Cognitive Impairment" reports people who learned they had elevated amyloid did not experience an increase in negative psychological outcomes particularly depression and anxiety.
The A4 Study started in February 2014 with 1167 participants ages 65 to 85 who showed no signs of cognitive impairment. Each participant underwent an amyloid PET scan to determine if they had elevated amyloid. Those with elevated amyloid were randomized to receive a monthly infusion of a study drug called solanezumab or placebo, as well as regular tests of their memory, MRI imaging, and the assessments of their well-being.
The 538 who did not have elevated amyloid, but instead "not elevated amyloid," joined the Longitudinal Evaluation for Amyloid Risk and Neurodegeneration (LEARN) Study, an observational study. LEARN participants receive the same procedures as A4 participants except the study drug.
Because participants in both A4 and LEARN knew their amyloid PET scan result, researchers were able to compare their scores on measures of depression, anxiety, and suicidality. They found little to no change between those who had elevated amyloid compared to those who had not elevated amyloid.
Penn Memory Center Co-Director Jason Karlawish, MD, who leads the A4 Study team at Penn, and Joshua Grill, PhD, Associate Professor at the University of California, Irvine, led the analyses of these data and both serve on the A4 Internal Ethics Committee, which has closely monitored the safety of disclosing amyloid biomarker results to trial participants.
Dr. Grill said they were "extremely happy" with these results. "Learning amyloid PET results seems, at least in the short term, to have been a very successful and safe undertaking, in that there were essentially no catastrophic reactions to learning this information," Dr. Grill said. Crediting Dr. Karlawish for study design, he added, "We were careful about who was enrolled and we took numerous steps to educate and prepare people to receive their amyloid PET scan result."
Other, smaller studies of cognitively unimpaired persons who learn amyloid PET results report similar results.
Cognitively normal people who learn they have elevated amyloid were not acutely harmed by the information, but they were changed. The researchers found they viewed themselves differently than those without elevated amyloid.
"We found that people viewed themselves as being at risk for developing Alzheimer's disease dementia in their future compared to the people who had a non-elevated result," Dr. Grill said.
Whether this could possibly lead to "changes in diet, exercise, and other lifestyle modifications, as well as important long-term decisions and life planning" is another important area for future research, study authors wrote.
A companion study that performed intimate interviews with persons in A4 and LEARN suggests this is the case. Dr. Karlawish summarized the findings of the Study of Knowledge and Reaction to Amyloid Testing (SOKRATES) in a paper published in February 2020.
"We found that persons with not-elevated amyloid felt relief and moved on from the result. In contrast, many persons who learned they had elevated amyloid reported changes to how they viewed their future. Some were optimistic. Some were pessimistic. Many talked about making changes to where they lived and worked. Several thought carefully about who they shared their result with," said Dr. Karlawish.
PMC Clark Scholar Emily Largent, PhD, JD, RN collaborated on the SOKRATES study.
"SOKRATES participants who had elevated amyloid understood their result to be a sensitive piece of information with implications for their sense of self and their social relationships," said Dr. Largent, Assistant Professor of Medical Ethics and Health Policy at the Perelman School of Medicine.
"Both studies have limitations. There is a pressing need to study diverse populations," Dr. Grill said. The participants in the A4 and LEARN Studies are mostly white, non-Hispanic, and highly educated individuals.
"We know that there are cultural differences in attitudes towards Alzheimer's. There are cultural differences toward learning health information, using health information, and we really need to understand these issues in more diverse populations," Dr. Grill said. "We still have a lot of work left to do. I don't think this is the end of it. I think this is the beginning of the road for us."
Sharnita Midgett is the A4 and LEARN Study Coordinator at the University of Pennsylvania. She also works as an outreach coordinator who engages research participants and members of the West Philadelphia community. Her particular focus is on the recruitment and retention of Black participants in brain aging research.