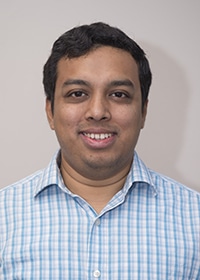 Sudipto Dolui joined the Penn Memory Center in 2017 after becoming a postdoctoral fellow at the Department of Radiology at University of Pennsylvania in 2012.
The focus of Sudipto's work is to develop signal processing strategies for Arterial Spin Labeling (ASL), a non-invasive method to measure cerebral blood flow (CBF), and to study CBF pattern in different neurodegenerative diseases, particularly Alzheimer's disease.
Sudipto earned his PhD from the Department of Electrical Engineering at the University of Waterloo, Canada.
Throughout his research career, Sudipto has been actively involved in varied fields of signal and image processing with primary interests in image denoising, deblurring, segmentation, compressed sensing, and their applications.
Sudipto hopes to help in the field of developing an imaging biomarker for early diagnoses of Alzheimer's disease.