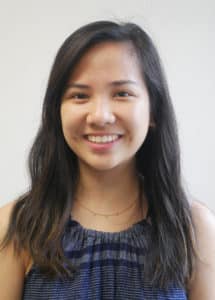 mariaflorence.nabong@uphs.upenn.edu
Maria Florence Aquino Nabong joined the Penn Memory Center in 2017 as a part of the Penn Minority Scholars in Aging Research program. Florence is working on a meta-analysis project with Dawn Mechanic-Hamilton.
Florence graduated from New York University with a bachelor's degree in economics and is currently pursuing a dual MD/MBA degree at Temple University.
During Florence's time as an undergrad, she assisted with community-based health disparity research at NYU Langone Medical Center. The projects she worked on aimed to decrease health disparities in high blood pressure among minority populations. Florence administered surveys, held blood pressure screenings, and participated in different community events in the field.
Florence is looking forward to gaining new exposure to aging research, as well as putting her educational experience to use in a meaningful, clinical context.