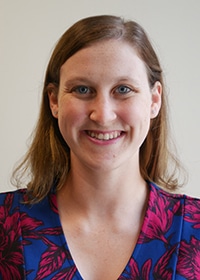 elisabeth.collins@uphs.upenn.edu
Elisabeth Collins joined the Penn Memory Center in 2017 a Geriatrics Fellow in the Department of Internal Medicine.
Elisabeth completed her undergraduate studies at Wake Forest University, where she majored in Biology and double-minored in Spanish and Chemistry. Elisabeth then graduated from the Sidney Kimmel College of Medicine, Thomas Jefferson University, in 2014. Elisabeth was a University of Pennsylvania family medicine resident from 2014-2017, serving as chief resident for the last two years.
Though Elisabeth is a board-certified family-medicine physician, she discovered through her residency her passion for caring for the aging population, which was her impetus to join PMC as a geriatrics fellow. Elisabeth hopes to hone the ability to manage the complex social and medical needs of this population while incorporating patient-centered and family-oriented care.