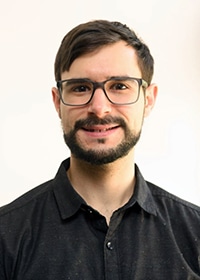 215-576-7463
benjamin.baker@uphs.upenn.edu
Benjamin Baker joined the Penn Memory Center as a Research Coordinator in 2017. He is currently doing qualitative data collection and analysis for the SOKRATES II study, working with Kristin Harkins, MPH, to understand why individuals decide to share or not share their APOE genotype, a gene used to predicted risk of developing Alzheimer's disease.
Benjamin earned his B.A. in Anthropology from St. Mary's College of Maryland in 2014, and his Master's degree in social work from the University of Maryland, Baltimore in 2017. He spent two years in his undergraduate program researching adults with developmental disabilities and how they define a good life for themselves. In his Master's program, he completed research of program evaluations of interventions for parents and teachers for kids with Autism Spectrum Disorder, which was implemented with Syrian refugees in Turkey.
Benjamin hopes to gain more experience doing research and be more confident with his research skills for the future.