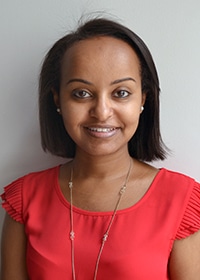 Please join us in saying farewell to Tigist Hailu, who has been the Director of Diversity in Research and Education at the Penn Memory Center since January 2013. Tigist will be starting this week as a Clinical Research Program Manager in the radiology department of the Children's Hospital of Philadelphia (CHOP). In this position, Tigist will be managing the clinical research in the radiology department and supporting radiology training in Ethiopia.
In her four-plus years at the Penn Memory Center, Tigist oversaw the center's multicultural recruitment, with a particular focus on the African American community in the National Alzheimer's Coordinating Center (NACC) study. Tigist made it her objective to visit community events in West Philadelphia in order to interact with and educate community leaders about Alzheimer's disease and cognitive health. Through this outreach effort, Tigist has recruited over 100 African Americans for the NACC study and developed the Penn Memory Center's Brain Health Research Registry, a recruitment tool for current and ongoing research studies.
In addition to research recruitment, Tigist has played a vital role in developing community programming at PMC, including her most recent projects: Dance for Health, weekly dance sessions to promote brain health through dance and intergenerational connections; Building Bridges to Wealth, a free financial literacy course for seniors and caregivers through a partnership with University of Pennsylvania's Wharton School of Business Professor Keith Weigelt; and My Typical Day, an ongoing photography project that allows older adults living with mild cognitive impairment to document their lives as they address their condition.
In reflecting on this transition, Penn Memory Center Co-Director Jason Karlawish said: "Tigist's new position as Clinical Research Program Manager is a testament to the skills and talents she developed in her years at the Penn Memory Center. David and I worked hard to retain her but, as we did this, we came to an understanding. This new position was the right next step in her career, and so we rested with pride in what she has built and also in the utmost confidence that what she built can and will carry on in the hands of her successor. All that said, we will miss Tigist."   
Tigist has also led the outreach work of the Penn Prevention Research Center's Healthy Brain Research Network Center, a member of the CDC supported Healthy Brain Research Network, dedicated to surveillance, education, awareness, and empowerment that promotes brain health.
During her time at the Penn Memory Center, Tigist played a vital role in PMC developing its Penn Minority Scholars in Aging Research program in order to train students from diverse backgrounds. The program allows students enrolled in medical or doctoral degree programs to participate in a paid internship working alongside Penn faculty and clinicians.
Tigist completed her undergraduate education from Franklin & Marshall College, where she earned a bachelor's degree in public health psychology and a minor in Africana studies. She then received her Master of Public Health (MPH) degree from the University of Pennsylvania in 2016.
Upon Tigist's MPH graduation, Dr. Carolyn Cannuscio, her capstone advisor in the MPH program, said of Tigist: "I have been so impressed with Tigist's creativity and determination. Her work is so clearly motivated by a deep compassion for and commitment to her patients. She is a model for all our students."
Tigist will be starting this week as a Clinical Research Program Manager in the radiology department of the Children's Hospital of Philadelphia (CHOP).
"It has been a wonderful experience working for an organization dedicated to making a difference. I'm grateful for the relationships I've built with committed colleagues, research participants and community leaders."