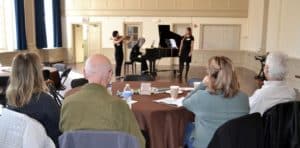 The Penn Memory Center is pleased to invite our patients and friends to a monthly pop-up café at Christ Church Neighborhood House in Old City. This program is exclusively for people with memory problems, including Alzheimer's disease, and their partners/families.
Schedule: 10:30 a.m. to noon one day each month. See full list below.
Location: Christ Church Neighborhood House, 20 N. American Street, Philadelphia, PA.
Cost: Free
Contact: Alison Lynn
Phone: 215-360-0257
Email: alison.lynn@uphs.upenn.edu
Upcoming
Friday, June 1, 2018: Featuring a special activity with PMC social worker Cynthia Clyburn.
Friday, July 13, 2018.
Friday, August 3, 2018.
Past
Friday, May 4, 2018: The Curtis Institute students will be performing.
Friday, April 6, 2018: The Quaker Notes, Penn's premier all-female a cappella group, performed a short repertoire for us and sang with our community members. Videos available on Facebook.
Friday, March 2, 2018: Mutter Museum held an interactive lesson on Civil War medicine.
Friday, February 2, 2018: Beacon Theatre Productions performed the short play "Mary Todd Lincoln: The Woman You Thought You Knew." Photos available on Facebook.
Friday, January 12, 2018: Philly Senior Stage performed a musical show featuring old hits like "The Joint is Jumpin'." Photos and videos available on Facebook.
Friday, December 8, 2017: Penn all-male a cappella group The Pennchants performed a selection of contemporary hits. Photos and videos available on Facebook.