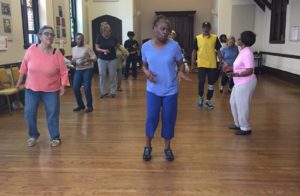 Dance for Health: Active Body, Active Mind is now enrolling.
A partnership between the Penn Memory Center and the Ralston Center, Dance for Health offers weekly dance sessions and monthly social activities with students from area high schools. With the support of a Penn Medicine CAREs grant, the program is free and open to the public. Any individual who is at least 55 years of age and willing to participate in a weekly dance session for three months is eligible to participate.
Over the past five years, Dance for Health has brought together nearly 500 dancers since Dr. Terri Lipman of Penn Nursing launched the program. The new program will focus on getting older adults to stay physically active and connected to the the West Philadelphia community.
The sessions will promote brain health through dance and intergenerational connections. Some of the most active areas of research in risk reduction and prevention include exercising regularly, eating a healthy diet, and keeping socially and mentally engaged.
Dynamic and engaging instructor David Earley will lead the classes and engage participants in active recovery during breaks.
In addition to having fun while line dancing, participants can look forward to developing strong connections with the other members in the group. Participants will be asked to complete surveys before the first session and after the last.
————————————————————
What: Weekly dance sessions and monthly intergenerational activity with students from area high schools
Where: The Ralson Center, 3615 Chestnut Street, Philadelphia, PA 19104