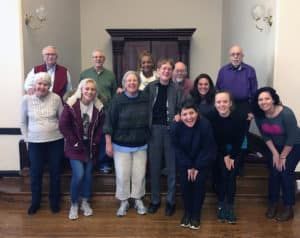 Cognitive Comedy was created by local comedian Leah Lawler to teach long-form improv comedy to friends of the Penn Memory Center. Make new friends, learn the tenets of improv, try out some scene work, and improve listening, word association, and mood along the way. Get out of your own head and experience "group mind."
The new season of Cognitive Comedy is now enrolling. To join, email Leah Lawler at leahmlawler@gmail.com.
All classes held from noon to 2 p.m.
Class 1: February 3
Class 2: February 17
Class 3: March 3
Class 4: March 17
Class 5: March 31
Class 6: April 14
Class 7: April 28
Class 8: May 12
Finale: May 19 (Time and location TBD)