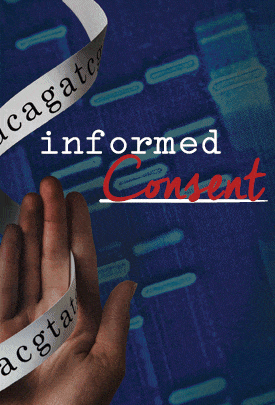 With the Lantern Theatre Company, playwright Deborah Zoe Laufer premiered a gripping play about genetics, identity, and family called Informed Consent.
The play's lead is a young and ambitious scientist who lives with a diagnosis of early onset Alzheimer's disease that she inherited from her mother and fears that she has already passed down to her young daughter.
Itching for any opportunity to help cure her daughter before her own mind deteriorates, Jilian (the researcher) agrees to perform research on a small, secluded Native tribe living in the Grand Canyon.
The Havasupai tribe are understandably skeptical of partnering with the genetic researcher. The tribe has already cultivated a long and deep relationship with a cultural anthropologist, and they are unsure of what they have to gain from working with Jillian, whom they do not trust. But ultimately, Jillian is able to break through with the tribe by emphasizing that she was motivated to help the tribe in the same way that she was motivated to help her own daughter. Using family and the painful knowledge of knowing how quickly diseases like Alzheimer's and diabetes can ravage a family, Jillian was allowed to take samples of blood from the tribe, even though they considered their blood to be sacred.
The story is based on a true account of the University of Arizona conducting research with the Havasupai tribe in the 1990s and an ensuing legal battle that stretched until 2010.
The tension in the story picks up and becomes a larger ethical dilemma. The tribe agrees to give Jilian their blood to help her treat and even cure their diabetes and obesity. Jilian, on the other hand, with her Type-A personality, uses intentionally vague language in the informed consent documents to allow her to follow up with additional studies on the genetic history of the tribe.
Jillian's actions are motivated by her love for her daughter. Her mind is racked with future scenarios where findings from this tribe can lead to her curing Alzheimer's disease and saving her daughter from the painful throes that she watched her own mother go through. Early onset Alzheimer's is, in many ways, the main character, the motivation, and the villain throughout the play. Jillian and her husband struggle constantly with how to approach the issue with their daughter. There may not be a right answer, but what becomes painfully clear as the play progresses is that Jillian's ambition, instead of helping to cure her daughter, actually hurts the people that she initially set out to help.
The parallels in the play are striking. The Havasupai and Jillian feel the constraints of time and their diseases. A researcher feels her identity slip through her fingers because of Alzheimer's disease while an ancient tribe watches their culture get stripped away because of advances from Western civilization and the prevalence of diabetes in the tribe.
The play does not shy away from tough ethical questions. How should modern society balance competing values in cultures that are often adversarial? How far are we willing to let researchers push so long as their intentions are pure? How much should people give up in order to feel healthy or safe? What do we really mean by informed consent?
After one recent performance of the play, Penn Memory Center Co-Director Jason Karlawish sat on a panel and was asked for his reflection.
"Blind ambition got in the way of truth and corrupted this study," he said. The central question that researchers must always consider is, "are the risks of research justified by the knowledge gained?"
Click here to learn more about to play and click here to learn more about the case which inspired it.
— By David Ney